Katherine
Lover of Life
Favorite Friend: Jack
Least Favorite Friend: Jack
Rider of Anything She Can Scoot or Sit On
Enjoys Bath Time & Scribbling With Ink Pens
Answers to Katie Hui, Minnie, Hui Jia & Lover Muffin
Wouldn't Be Caught Watching TV - No Interest Whatsoever
Screams Baba! Baba! When Daddy Comes Home From Work
Claps When Breakfast, Lunch and Dinner Are Served
Wearer of a Dimpled Grin and Anything Girlie
Giver of Hugs and Wet, Open Mouth Kisses
Empathetic, Compassionate, Thoughtful
Shares Toys and Double Arm Hugs
Happy, Happy, Baby
What a precious birthday for our Little Love....her first at home. I was misty eyed most of the day as I thought about Katherine and how far she has come in just two months..and more so, in the last two years. It was a special day for all of us and we are so very, very grateful that this birthday was celebrated with the love of family and friends.
Happy Birthday, Katie-Hui! We Love You!
Mama and Baba
The Cake: A Chinese Lantern in Baby Pink...With a Friendly Panda Bear and Cherry Blossoms
The Flavor: Chocolate Chip Butter Cake with Chocolate Truffle Filling
Nola And Jack Were Very Happy To Celebrate Kate's Big Day...And To Help Her Eat The Cake. The Hard Part Was Waiting For Our Guests To Arrive!
Family And Friends Were Greeted At The Door With A Traditional Chinese Ornament. It Was A Gift From Kate's Nannies.
Waiting Inside Were Yummy Party Favors And A Delicious Meal. One Side Of The Buffet Was Loaded With All Of Kate's Chinese Favorites (dumplings, long noodles, etc) and The Other Side Boasted Traditional Cook Out Classics.
Even Though Kate Turned Two, We Wanted To Give Her The Opportunity To Experience An American Tradition: A Smash Cake!
Katie-Hui Isn't Big On Sweets But She Sure Had Fun Sitting On Top Of The Table......
And Dragging Her Fingers Through The Icing!
After The Smash Cake We Moved On To Presents! Kate Delicately Opened Them One At A Time And Gave Each Scrap Of Paper To Daddy.
She Could Hardly Contain Herself!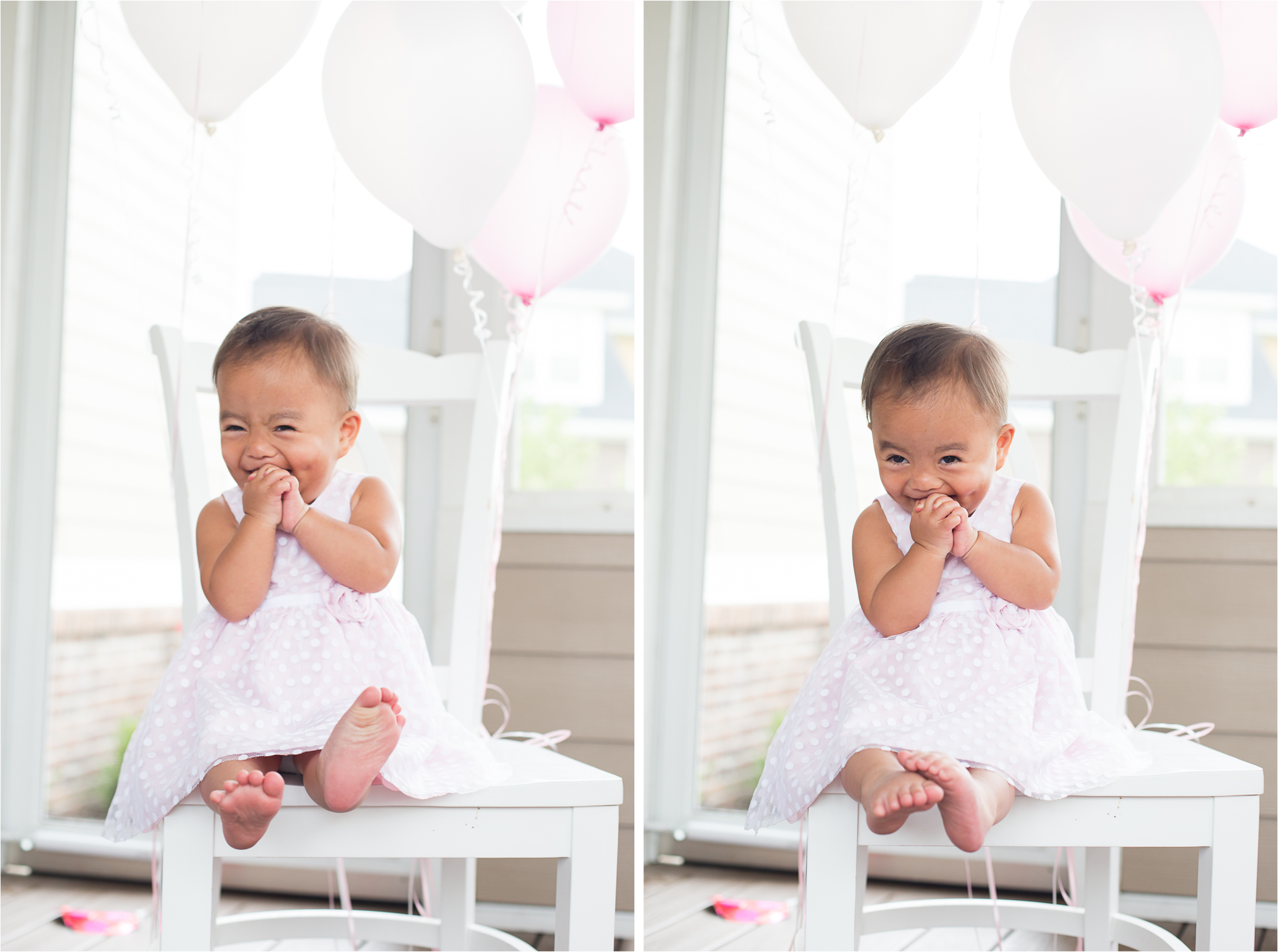 A Special Gift From Mama and Baba: A Locket With A Map Of Her China Home.
With The Meal, Smash Cake and Presents Behind Us, It Was Time to Move On To The Main Event!
Kate Loves To Hear The Birthday Song, So We Sang It Several Times...Relighting The Candles Each Time So She Could Blow Them Out. She Would Happily Try To Sing Along, Clapping For Herself When The Song Was Finished.
Katie-Hui Is Loved, Treasured, Adored and Doted Upon...Just As Every Child Should Be.
She Is Part Of A Family That Would Move Mountains and Cross Oceans To Be With Her.
A Family That Happily Dances To Cantonese Music, Embraces New Traditions and Is Willing To Download Kiddie Tunes To Their Phones Just To Make Her Smile.
A Family That Gives Countless Hugs and Kisses And Fights Over Who Will Hold Her Next!
And Naughty Or Nice, These Things Will Never Change.
Because We Love Her..No Matter What! Happy Birthday, Sweet Girl.