Jack
Mama's Boy
Loves Dirt, Trucks and Granny's Farm
Enjoys Being Silly and Playing in Water
Desires To Have A Cowboy Hat and A Beard
Watcher of Team Oomi Zoomi and The Little Einsteins
Always Ready To Ride 4-Wheelers with Grandpa
Daily Wearer of Red Rain Boots
Hopes to be a "Big Dinosaur" When He Grows Up
Answers to Jack-Jack & Mr. Handsome
Best Friend To Nola
Sweet. Loving. Playful.
Oh what a year it has been! It just doesn't seem possible that our little man is 3 years old. Jack knew right from the start that he wanted to have a "Dinosaur" themed party. His only request..that his cake be "Peppermint Patio" flavor. "Peppermint Patio" is Jack's favorite candy (York Peppermint Patties). The boy loves chocolate and mint! When asked what he wanted for his birthday, he said, "Whatever you want to get me." That's the thing about Jack. He is happy and content with what he has.
Jack loves to live life on the edge. He likes speed, heights and pushing the limits. He jumps off of anything he can climb and is a dirt magnet. If it looks dangerous, there is a good chance that Jack will be interested in exploring it further. In fact, he frequently says, "Ooh....that looks dangerous" but not in a scared way. It's more of a "need to try" kind of way. He has comedic timing and works for laughs. The truth is, people love Jack just the way they loved his great grandfather and namesake. Both sensitive and caring men with just enough fire in their bellies to keep it interesting.
Happy Birthday, Jack-Jack! We love you!
Mommy and Daddy
Dinosaur Cupcakes!
Going In For A Pre-Party Taste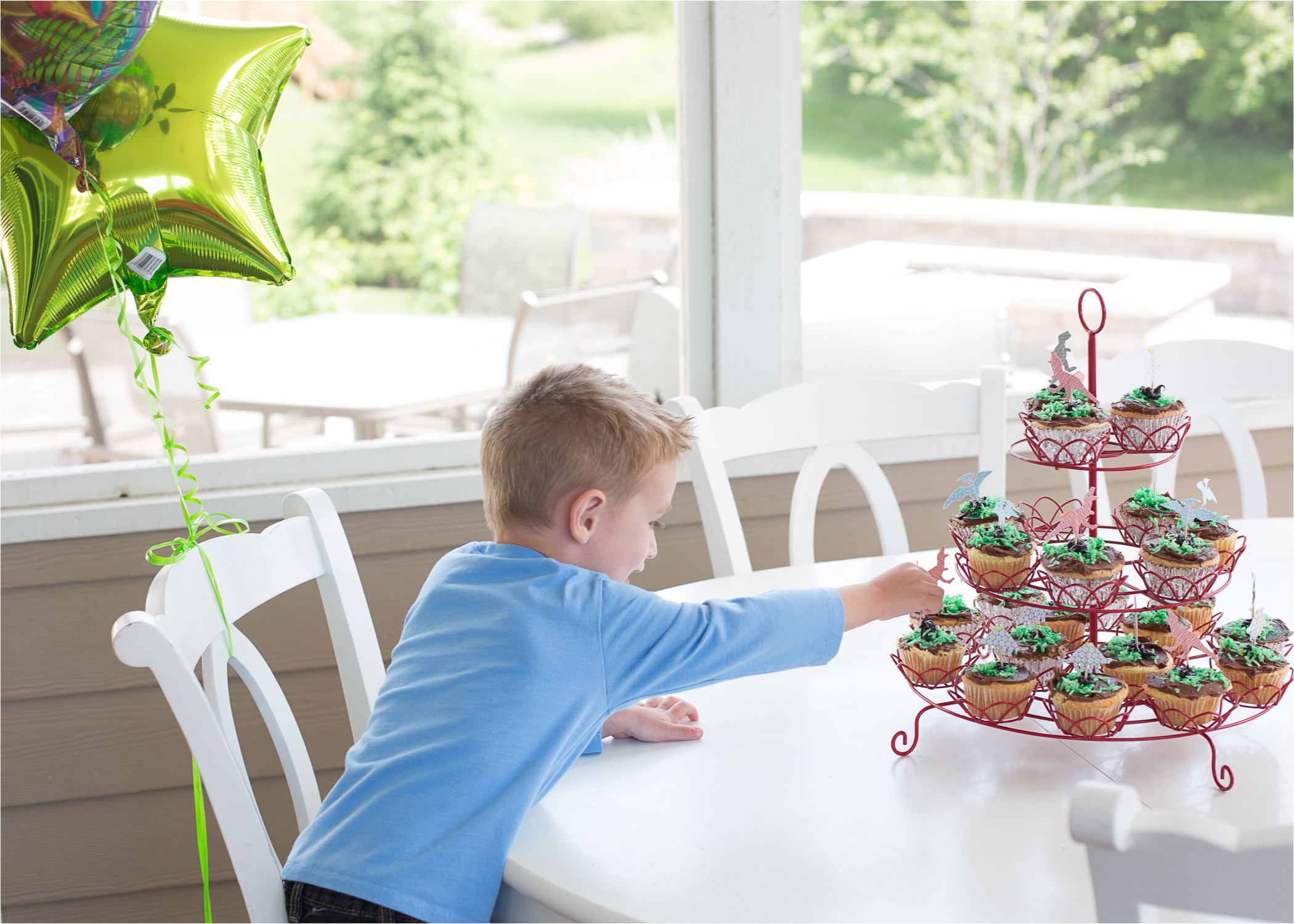 Getting Busted In The Act
Not So Happy When Big Sister Laughed At Him For Getting Caught
Check Out The Birthday Boy's Dino T-Shirt
Taking A Cheeto Break On The Table While Daddy Works The Grill
The Party Favors Were A Hit With Nola....
What's Not To Love About Present Time!
Time For The Main Event! Cake!
At The End Of The Day I Tucked My Little Man In Bed Wearing New Dino Pjs...Under His New Dino Sheets. He Said, "Mama, I Loved My Birfday."