Today we made the 3 hr trek to Kate's orphanage in Huidong. We weren't sure how she would react seeing her nannies and friends, but we had several questions that could only be answered by those who cared for her. Honestly, I was nervous. I knew that once I was there, for better or worse, the images would be burned into my mind and heart forever.
When we arrived the security guard let us in the large double gates. Waiting on the steps was a row of nannies all waving and smiling. Our sad little girl lit up when she saw their familiar faces. Our first stop was the playground where Kate had her picture taken for her adoption file. She recognized the equipment and gladly played while the nannies watched and fussed over her.
Our second stop was the children's floor. This was by far the favorite part of the visit. We were surprised to learn that Kate was one of two little girls at the orphanage and the rest of the children were boys ranging from kindergarten to about 8th grade. They love Kate and ran to her when she walked in the room. Her reaction was priceless....clapping, giggling and big, cheesy smiles. D and I took the time that we had at the orphanage to play with the children and passed on the chance to see the offices, kitchen, etc. D showed the children how to use the digital camera and and I played hide and seek. By the time our hour was up, we had the children all cranked up from games and sugar. Yes, Dennis stopped at the seven-eleven before we left and bought a case of M&Ms and light saber suckers. He's a big softie.
We ended our visit by having tea with nannies. Just as we were about to leave, the director and security guard came to speak with us. They wanted to share us how Kate came into their care. D and I both sat in tears as we listened to the most beautiful and painful story of a grandmother's love and a merciful security guard who chose to do the right thing...even if it meant breaking the law. Most importantly, we are able to give Katie the answers that she will one day need and for that I am grateful.
When it was time to go, Kate willingly came to me with a smile. She waved bye-bye as we left and has been a new girl ever since. She is laughing, smiling and playing. She let Dennis carry her and has been giving him flirty eyes. The trip to the orphanage was a turning point for Kate. Our little bug needed closure before being able to move on.
The orphanage.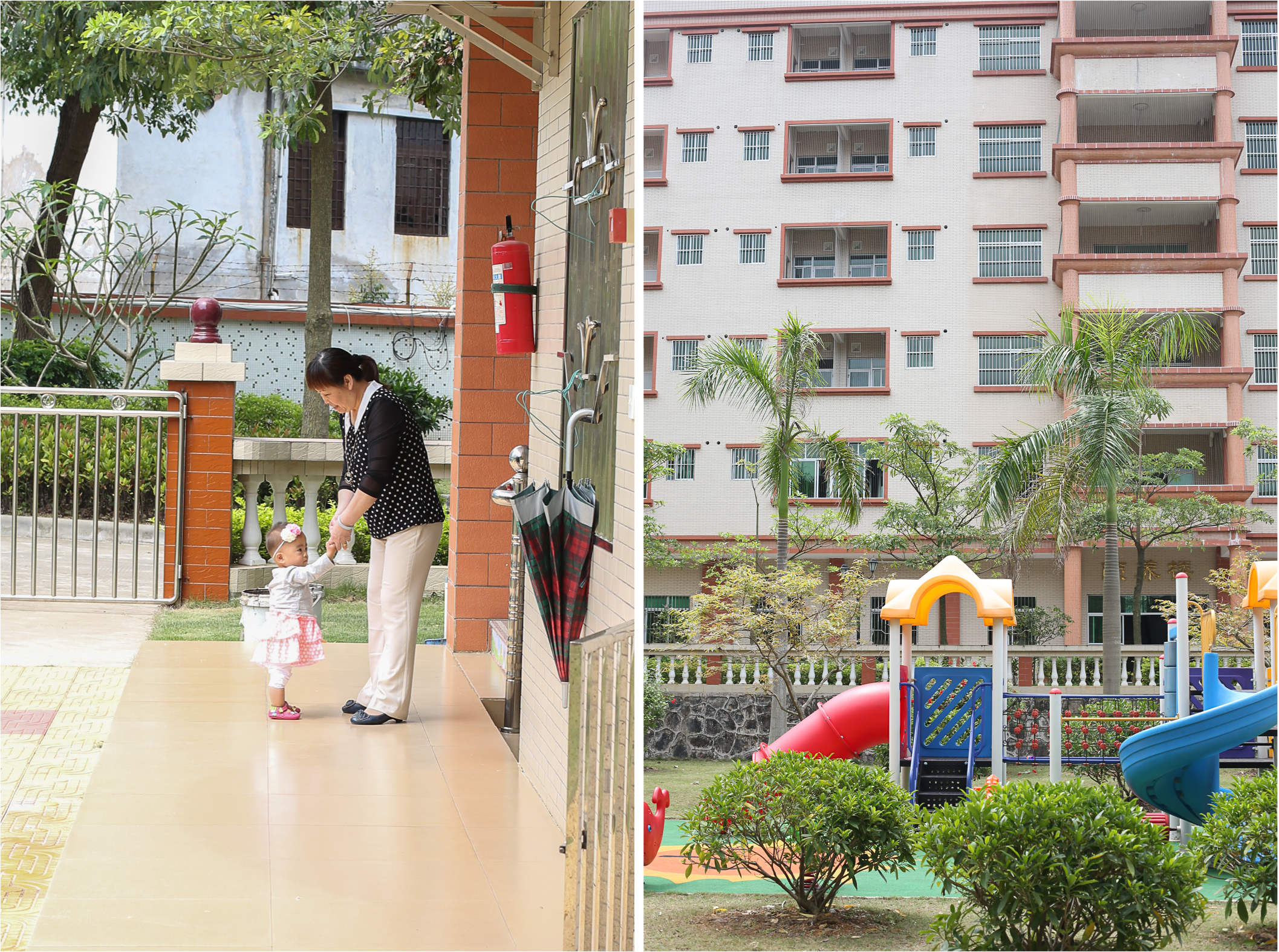 The orange seahorse where I first saw Kate's face.
The steps leading up to the children's floor.
Seeing a favorite nanny. How great is that smile!!!